Mechanisms of stress-induced autoimmunity and neuroinflammation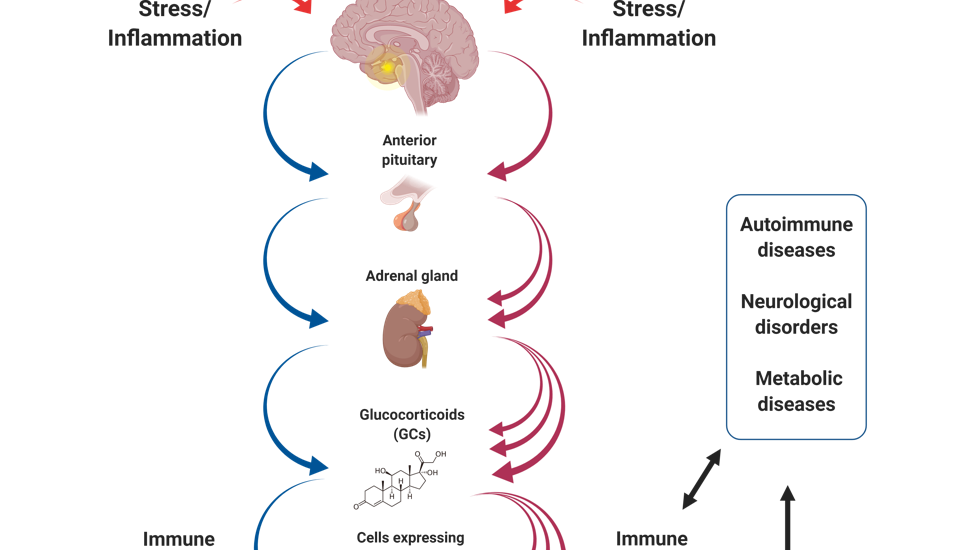 It has been well established that stress may substantially affect the homeostatic regulation of the immune system. In most animal models studied thus far, stressful triggers such as fear, maternal deprivation, social threat or physiological challenge have been shown to induce immunosuppression associated with increased susceptibility to allergies and infectious diseases. These effects are mediated by the hypothalamic-pituitary-adrenal (HPA) axis, a complex network linking the nervous, endocrine and immune systems.   
In line with the critical role of the HPA axis in suppressing pathogenic autoimmunity and clinical observations linking stress with disease exacerbation, our recent study (Harpaz et al., 2013) shows that prolonged stress exposure worsens, rather than ameliorates, clinical symptoms in a mouse model of multiple sclerosis; a phenomenon, however, which could be prevented by blocking glucocorticoid signaling throughout the stress exposure period. We also show that glucocorticoid levels under basal conditions are significantly lower in male than in female mice, associated with exacerbated disease symptoms. Finally, we show that stress decreases the Treg/Teff ratio, and increases the Th1-Th17/Th2 ratio, within the Teff-cell subsets. Taken together, our findings raise the possibility that while the HPA axis provides immunosuppression under basal conditions (i.e., in non-stressed females), prolonged exposure to chronic stress results in an attenuated CORT response to stimuli primarily in pro-inflammatory effector CD4 T cells, predisposing to higher susceptibility to pathogenic autoimmunity.
The notion that overactivation of the HPA axis disrupts a key homeostatic regulation of inflammation, prompt us to broaden our research goals. Current studies in the lab thus address the impact of chronic stress on gut inflammation, autoimmunity, brain inflammation and psychiatric disorders.